A menu is an instant glimpse of your restaurant. Adding enticing, engaging and exciting imagery of your food and drinks to it, can make all the difference in the world!
New full service and quick service restaurants are opening every day, global restaurant sales are increasing at a remarkable annual pace of 5.6%. Competition in the restaurant industry has never been fiercer, but this doesn't mean you have to be the biggest and baddest restaurant out there, you just need to out-smart the competition!
Consumers form a first impression in the first 50 milliseconds, so make customers fall in love with your restaurant right away by displaying the right food imagery, remember to maintain a good first impression across all digital platforms and in your restaurant.
Your menu is more than a list of food and prices – it's the marketing asset that differentiates you from the competition. The biggest factor behind diners' decisions to visit a restaurant after looking at its website, were the items on its menu.
So why not also use the power of pictures on your digital menu, to build lasting customer relationships and increase your profits? You've heard it before: 'people eat with their eyes', a staggering 82% of people buy a dish because of how it looks in a picture, and some restaurants have even increased their conversions by 25% after adding images next to the items on their menu.
Now for the real question – is your digital menu online and does it grab your customer's attention? However, don't get us wrong, a digital presence and a digital menu doesn't guarantee sales. What will guarantee sales however, is a picture-based menu. Visual storytelling with pictures of your food can help you deliver a meaningful message, enhance the personality of your brand, and engage with an audience who resonates with your vision.
Here are a few more reasons why you need to include photos of your food and beverage offerings on your digital menu right now:
Get Millennials and Gen Z to notice you
These generations, which jointly comprise to over 64.5% of the global population, possess a collective spending power that reaches into the trillions. They are true digital natives, value authenticity, are more adventurous with their food selection, and have the purchasing power to redefine industries. These generations have grown up with a camera in their pocket and they sure know how to use it. Therefore, if your digital menu is simply detailed with a price and product description, you're possibly losing out on a large potential target market.
According to a study, 86% of millennials try a new restaurant after seeing food-related content online, this is yet another reason you should have your visual digital menu posted online and across all platforms.
Hungrier the stomach, larger the tab
Skilled food shots and mouth-watering imagery can stimulate an emotional response that strengthens customer relationships. Naturally, you want your customers jumping out of their seats in anticipation after taking one look at your food pictures. You guessed right, desire is the emotional trigger in this scenario.
Ever heard of the hunger hormone ghrelin? Well, this area of science can surely work in your favor! Ghrelin is responsible for telling your brain to seek out food, and every time your customers see a picture of something delicious and decadent on your menu, ghrelin quickly enters their bloodstream, stirring up an appetite.
This crafty tactic not only helps you generate far more customer engagement opposed to a boring list of ingredients, but is also what sets apart restaurants from their competitors. Guaranteeing you an increased ticket size and customer success.
Build customer trust & credibility
When it comes to food, people seek visual proof of satisfaction before shelling out money, and a customer is more likely to order from a menu that includes photos of every dish – after all, the more you show, the more you sell!
These days, customers have specific needs and cultured pallets. Providing customers an enticing and intriguing visual of their dish is how you can build your customer's trust, whilst setting out the standard on what to expect, leaving them eagerly awaiting their meal. A photo-based menu can even encourage customers to explore new dishes on your digital menu and make faster decisions. Helping you achieve accelerated table-turnovers.
Also, let's not forget that people tend to remember only 10% of the information they read. However, when you add a photo, that number spikes to a striking 65% - so by including fresh and compelling imagery, you are actually improving customer retention, whilst also attracting new guests who sees your online digital menu.
Evolve with the times
Are your competitors still using text-based menus, or worse, text-based PDF menu's? Then you are likely the trendsetter in your neighborhood. After all, we know that 65% of restaurant guests will no longer accept physical menus as a new rule, and who really wants to deal with the hassle of attempting to view a non- interactive PDF menu on their smartphone? Especially when QR code digital menus prove to be safer and more effective.
Brand building is one of the major challenges that restaurant owners face when establishing themselves as the go-to place in the market. Keep in mind, differentiation is key to survival - even if your competitors are cooking the same dishes you are, customers are still more likely to be drawn to the eye-catching food pictures on your digital menu.
According to a study, dramatic physiological changes are seen in response "professional" food images, almost as if they have a plate of food right in front of them. But don't take the "professional" part to heart, any image is better than no image. With today's smartphone technology, the wonders of natural light, camera angle and the less is more effect, you can work your magic to get that picture perfect image of your dish.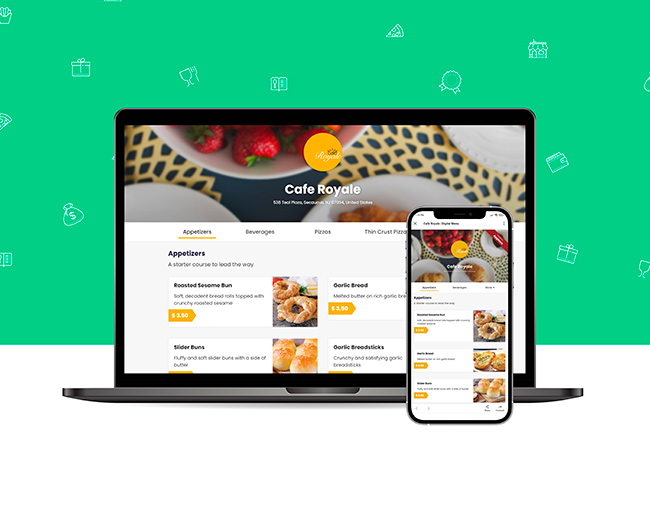 Looking for a Free Online Digital Menu that supports pictures?
Stand out and cut through the clutter with Applova Free Digital Menus. The easy-to-access and user-friendly interface allows you to create, customize and update your digital menu in minutes. With just a few clicks, you can upload an unlimited number of artisan images of every item on your menu, along with respective prices and other relevant information. Get creative by swapping backgrounds, color themes and even upload your own logo.
Applova's Dynamic QR Code also allows for real-time price changes and menu item availability or substitutions, so your customers will always have access to accurate and current information.
Applova Free Digital Menu is FREE FOREVER. So what are you waiting for? Integrate food images in your digital QR Code Menu now, to bolster sales turnover, increase customer engagement and go next-level digital!
Check out a sample menu here and sign up now!