We're excited to announce that our logo and brand has undergone a significant transformation. Our new identity satisfies all of the existing expectations of what our original mark stands for, while simultaneously moving the brand forward.
We are now Applova Inc., effective August 23, 2019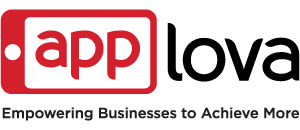 Applova Inc. is our new branding and one of many parts of our transformation. Applova Inc helps to strengthen our purpose of existence: To Empower, Grow and Redefine businesses of all sizes to achieve more.
Our refreshed logo and brand convey the continuous evolution and expansion of our business, and proudly display the characteristics we want to communicate to our stakeholders about our brands. Our new positioning leverages and incorporates the strengths and values delivered through each of our businesses.